Press/Articles Links:
Interview in iDrumMagazine: "Jamie Borden pins down one of busiest percussionists on the planet for long enough to get an insight ino the super positive world of Michito Sanchez."
Article in Gaming Today: "Nothing moves people like salsa music."
Article in Vegas Seven: " Percussionist Michito Sanchez heats up Mandarin Bar"
Press:
Rock 'n' Roll Truth
Sunday, February 26, 2012
Sights and Sounds: B-52′s, John Mayer, Joan Osborne, Eric Hutchinson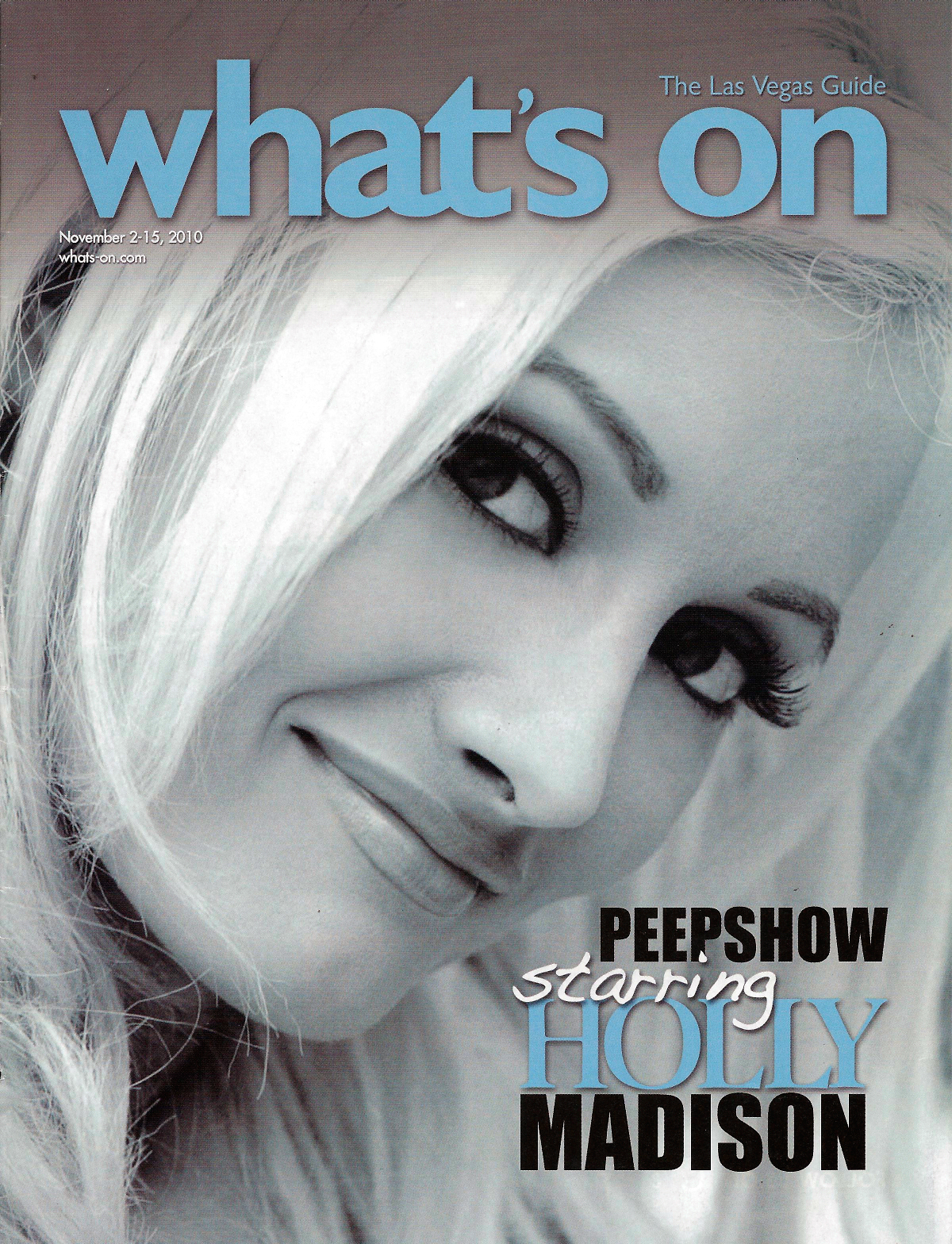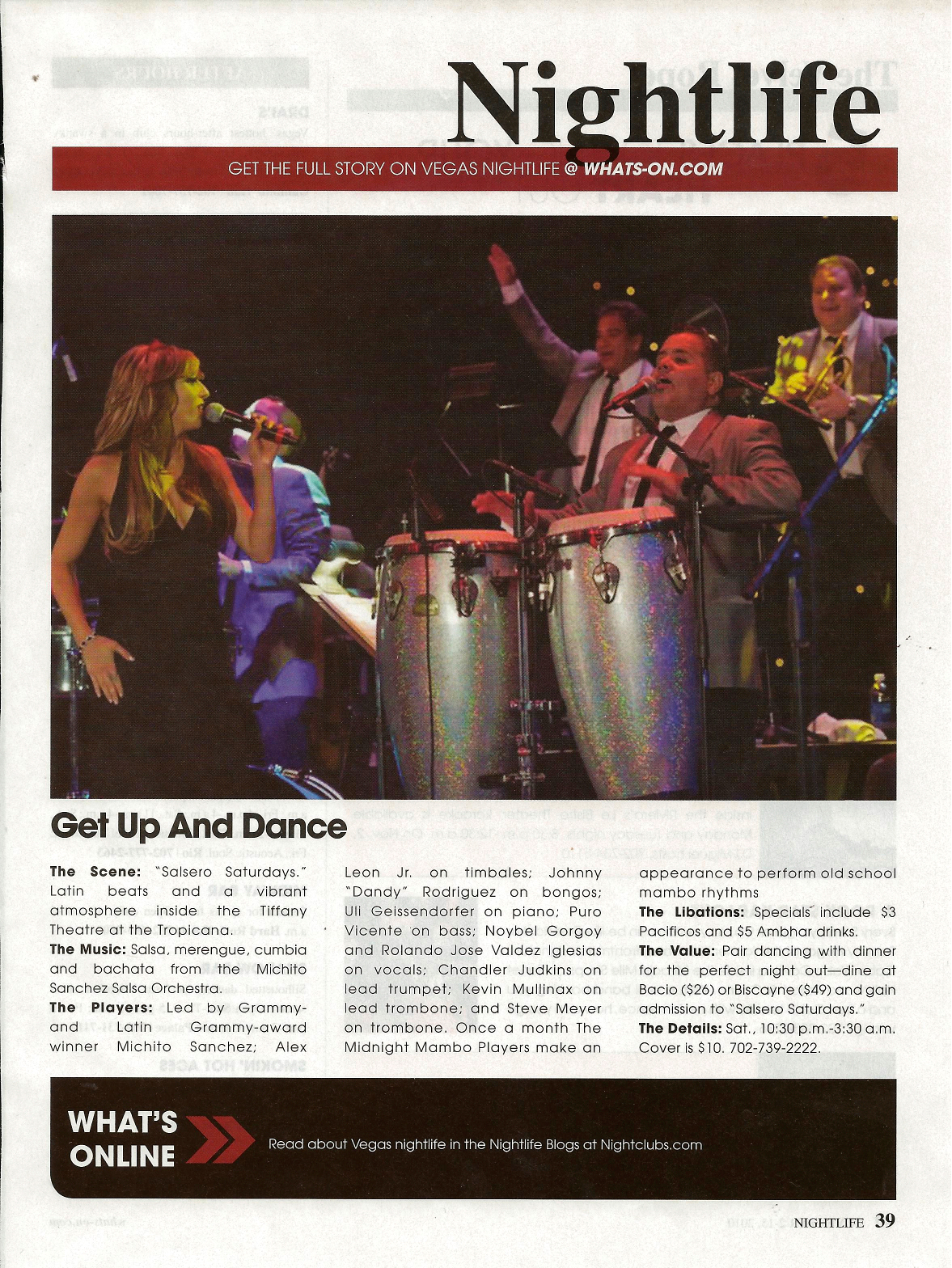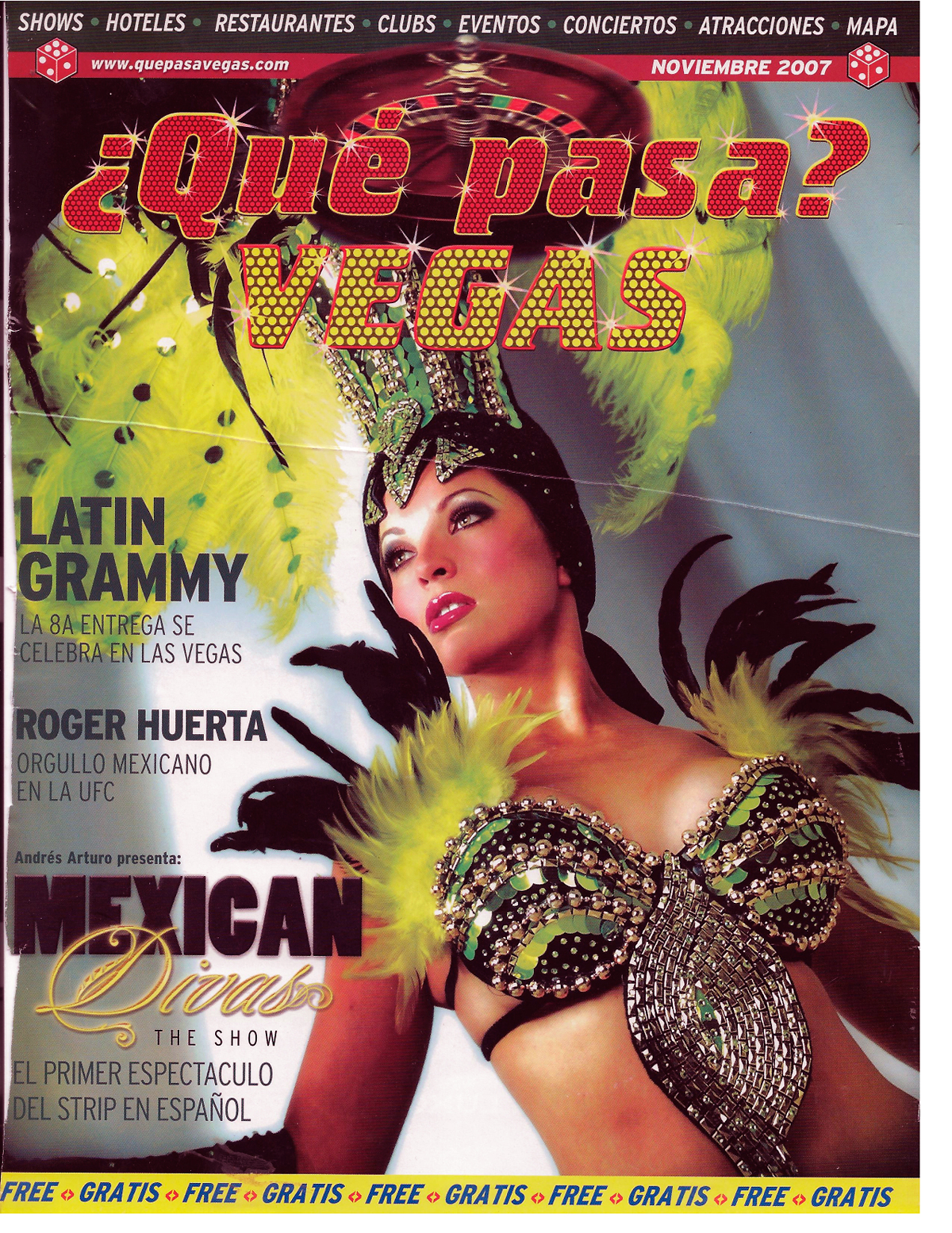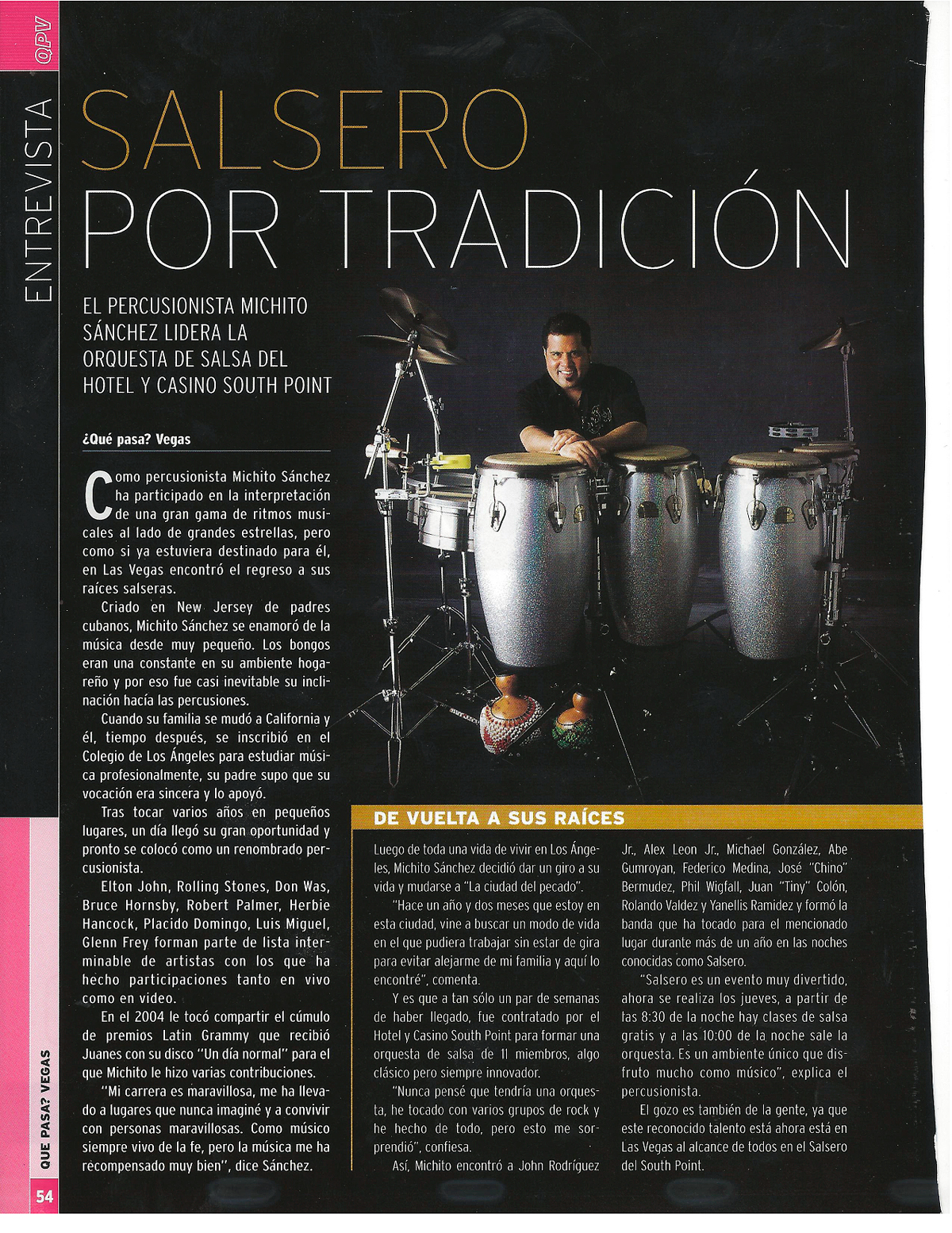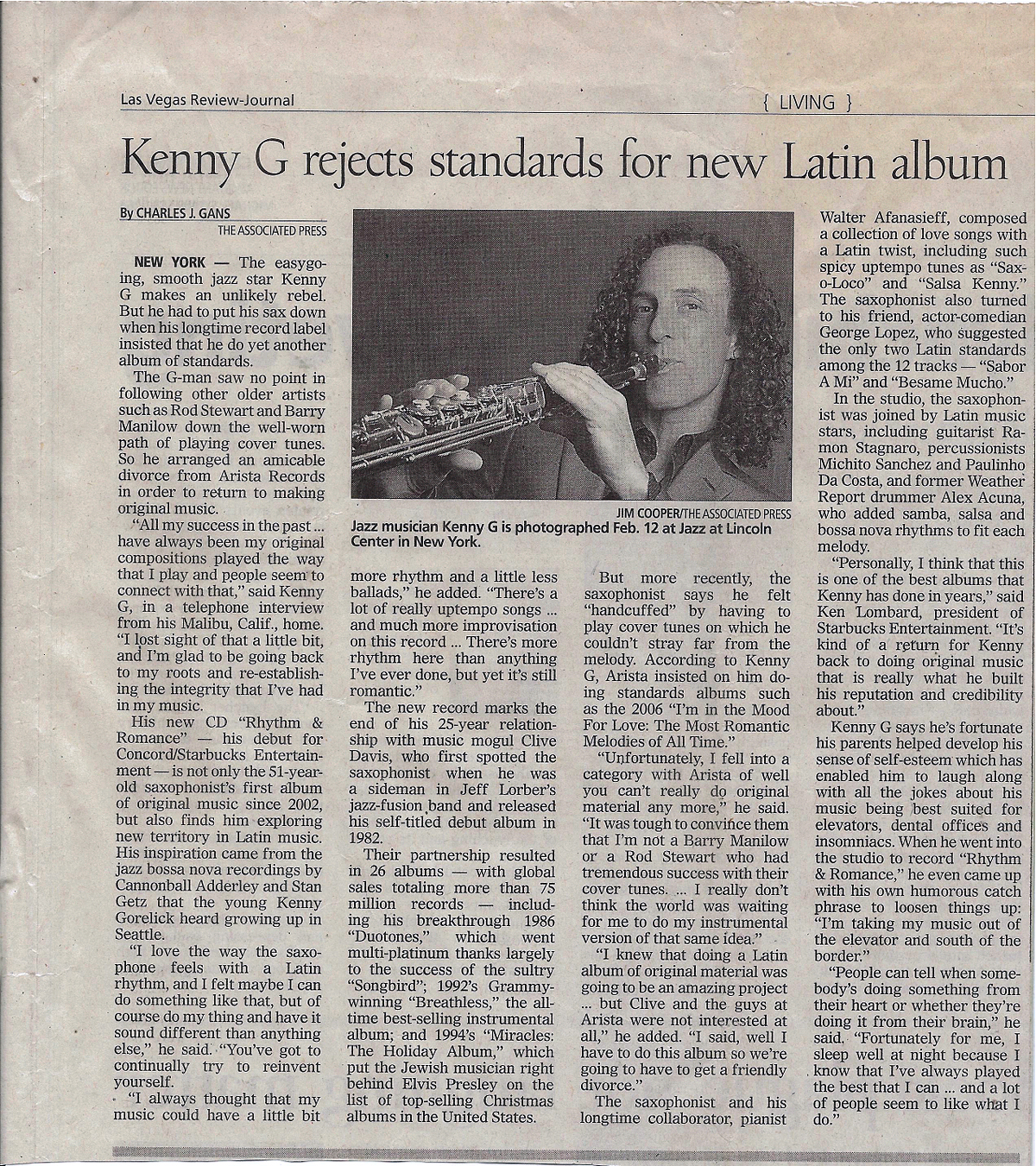 Salsa Caliente
Bobby Shew (MAMA)
By Jack Bowers
It is mildly surprising that Bobby Shew hasn't recorded until now an album of Latin Jazz. He was raised in Albuquerque, New Mexico, where he played the music often as a young man. While his career took him in other directions – to the studios in Los Angeles, the trumpet sections of a number of well-respected big bands, and eventually all over the world as a sought-after solo performer, his love for its fiery melodies and unconventional rhythms never waned, nor did the idea of one day producing a Latin album. That time has now arrived, and as Shew says in the liner notes to Salsa Caliente, ". . . this recording is something I have dreamt of doing since as far back in my musical life as I can remember." In fact, for this date he has dubbed himself Bobby "El Zapato" Shew. So how does El Zapato fare? Quite well, actually. The chili peppers on the jacket and the record itself denote the average temperature, and the music generally lives up to it. Of course, Shew is an excellent player in any context, and there's no reason he should be any less so in this one, especially in light of his background. The supporting cast also perform well, with effective solos by tenor/flutist Almario, pianist Levine and trombonist Velasco complementing the slashing rhythmic incursions of Rodriguez, Pasillas, Resto and Sanchez. Of the songs chosen, only Ray Bryant's "Cubano Chant," which opens the session, was familiar to me. But no matter; all of them are admirable, including three sunny compositions by Levine ("Linda Chicana," "Serengeti," "Santo Domingo"), one each by Cal Tjader ("Paunetto's Point"), Harold Ousley ("Elation") and Bill Fitch ("Insight"), and two ("Paloma," the lively "Mambo Galante" on which Shew and Cracchiolo present their version of "dueling trumpets") by Robert Washut, director of Jazz Studies at the University of Northern Iowa. Savor the music, and if you're not yet satisfied, try Bobby's recipes for red chili sauce or guacamole, which are included. Some people simply can't get enough salsa; others (myself included) encounter heartburn after more than one small helping. If you can tolerate the spicier aspects of Jazz, this one's for you.
Track listing: Cubano Chant; Elation; Linda Chicana; Serengeti; Paunetto's Point; Santo Domingo; Insight; Paloma; Mambo Galante (63:22).
Personnel: Bobby Shew, trumpet, flugelhorn; Mark Levine, piano; Jose "Papo" Rodriguez, bongos, percussion; Justo Almario, tenor saxophone, flute; Arturo Velasco, trombone; Ricardo "Tiki" Pasillas, timbales; Michito Sanchez, congas; Eddie Resto, bass; Sal Cracchiolo, trumpet, flugelhorn.
Caravana Cubana
Printed in the Monday, February 21 edition of the Los Angeles Times, page F5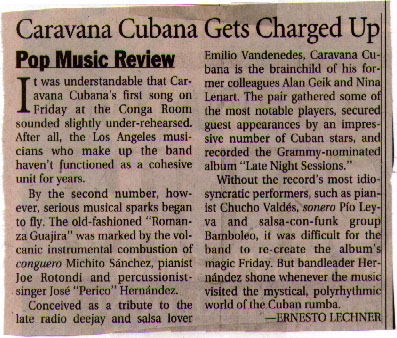 Fifth Annual KLON Latin Jazz Caravan
THE SCENE
Jose Rizzo often refers to Tolú as a powerhouse salsa band. He is not exaggerating. Any band comprised of a rhythm section of Joey De Leon, Michito Sanchez, and Ricardo "Tiki" Pasilas, a brass section of Harry Kim and Arturo Velasco, pianist Joe Rotondi, guitarist John Peña, and saxophonist Justo Almario, is capable of playing with sheer power. They all rank among the finest Latin jazz musicians in the world.
Tolú appeared at the Mint in West Los Angeles. Their last selection before the first intermission was "Mambo Barbara," from their album Rumbero's poetry. It was an impressive display of energy and power reminiscent of the great fifteen piece swing bands of the Big Band era. The packed nightclub was transfixed.
Their selection before "Mambo Barbara" demonstrated Tolú's ability to generate an equally intense emotional response playing romantic music. Their interpretation of the melodically beautiful "La Historia de Un Amor," with a soulful clarinet solo by Almario, brought down the house.
Justo Almario led the band. He left his native Columbia in 1969 to study at the prestigious Berklee College of Music in Boston where he developed a long time association with Mongo Santamaria, eventually settling in Los Angeles where he and percussionist Alex Acuna formed a group of musicians in the early 1980s who met to informally jam and improvise Latin music. They named it Tolú after a beach on Colombia's Caribbean Coast near Almario's hometown of Sincelejo. Due to scheduling conflicts, the group has been only sporadically active. But over the last three years they have been making a concerted effort to keep together.
Tolú plays a unique blend of compositions. They combine Brazilian, Calypso, and South American music with jazz and Latin rhythms to create an innovative Pan American sound that is starting to reach across the globe. Let's hope they do stay together to achieve the exposure they richly deserve so they can continue to make a significant contribution to Latin jazz and build on their rapid growing popularity.
Los Angeles Times, September 20, 2001
Bossa Nova Pulses at Guitar Jam
Oscar Castro-Neves
joins John Pisano for a
high-spirited evening.
Jazz Review
By Don Heckman
Special to the Times
The best jazz bargain in town–John Pisano's guitar jams at Spazio in Sherman Oaks–was especially rewarding Tuesday night. The ever-energetic guitarist, his versatility well-established over the years via gigs ranging from the Tijuana Brass to Joe Pass, was accompanied in the front line by the equally gifted and experienced Brazillian artist Oscar Castro-Neves.
Add to that the bass playing of Abraham Laboriel, the keyboard work of Frank Zottoli and the percussion of Michito Sanchez, and the ingredients for a first-rate evening were firlmy in place. Although another important Brazilian guitarist, Dori Caymmi, was unable to make the performance, the results nonetheless delivered the sort of engaging, high-spirited, musical experience that is beginning to draw ever-larger crowds to the weekly guitar events.
Typically, the flow of the performance was largly spontaneous. Starting out with a set featuring Pisano and the rhythm section, the music roved easily from "Tangerine" to "How Insensitive" with Pisano interacting smoothly with Zottoli's unusual combination of keyboard sounds, Sanchez's colorful percussion timbres and Laboriel's always energetic bass solos.
When Castro-Neves joined the group for the balance of the evening, the pendulum swung in the direction of Brazilian music, especially bossa nova. And in Castro-Neves–who was present in Rio, as a very young man, when the music began to emerge in the '50s–the performance gained an irresistable subtext of rhythmic subtlety.
Sitting side by side, smilingly tossing phrases back and forth, the guitarists played a range of Antonio Carlos Jobim classics, "Chega De Saudade" among them, throwing in some arrangements from their past performances together (includng a delicate rendering of the Chopin C minor Prelude).
In the final set, Castro-Neves added a vocal interpretation of his own "Chora Tua Tristeza," written when he was 16, that turned out to be one of the evenings unexpected highlights. In a classic example of what makes the guitar nights so fascinating, the song–completely unfamiliar to the other players –began solely with Castro-Neves' guitar and voice. But by the time he was halfway through, Pisano had picked up on the chords, soon joined by Laboriel and Zottoli, with Sanchez adding crisp rhythmic accents, all of it resulting in a joyous celebration of the pleasures of musical spontaneity.